If you missed the DC Record Fair this past Sunday at Riot Act Comedy Theater, definitely DO NOT miss the next one. Spanning two floors and chock full of LPs ranging from rare classics to unopened copies of Outkast's
Aquemeni
(your Scoutmob editor was the lucky one to score that), this fair offered something for everyone. And speaking of everyone, we sent our intrepid community manager Glory Edim on assignment to catch up with a cross-section of attendees. What can we say? We're a nosy bunch. Here's who we met:
DJ Nolan
Eazy Duz It by Eazy E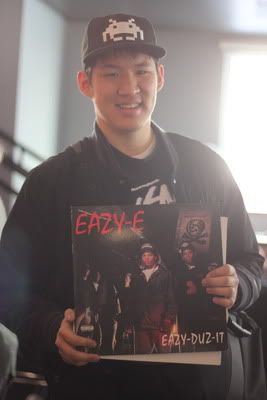 Catch DJ Nolan behind the 1s and 2s where he may be spinning classic Kanye West (cue
Thru the Wire
) or better yet, legendary West Coast rapper Eazy E. Nolan, a life-long fan of hip-hop, perused the record fair for more classics to add to his collection.
Marissa
The Grease Soundtrack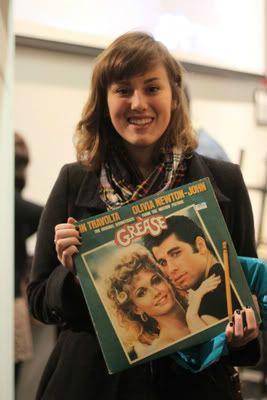 College students can't resist a great bargain or singable soundtrack. Marissa is no exception. While digging through vinyl records, she spotted a picture of Sandy from the 1978 film
Grease
and shouted, "You're the One That I Want!" Okay, not really, but she did purchase the record for one whole dollar. "Grease is always good to have."
Kristen
Brazilian Romance by Sarah Vaughan
Kristin is a lover of jazz and entrancing Brazilian melodies. She scored a two-for-one, with Sarah Vaughan's Brazilian Romance. "I love Sarah Vaughan's voice." The jazz singer's final complete album is filled with bossa nova tracks ready to scat to.
Matt
Taj Mahal by blues band Taj Mahal
Matt walked into the DC Record Fair looking for the blues and he discovered Taj Mahal and his guitar, banjo and harmonica.
Allison
Le Sacre Du Printemps by Igor Stravinsky
Learning classical music is easier on vinyl because the album artwork can double as a study guide. Allison took her art history professor's advice and added Igor Stravinsky's beautifully composed album to her dorm room.
And if you can't get enough DC Record Fair photos, make sure to check out the album we posted on
ScoutmobDC's Facebook right here
and let us know what you scored.