By Glory Edim
I took a seat in a stranger's Volvo and began what was pretty much the best field trip ever, thanks to
Knowledge Commons DC
, a self-proclaimed "free school for thinkers, doers and tinkerers." But unlike field trips as a kid, where the most exciting part was the ride to whatever boring place your school and parents thought was good for you, this trip's awesomeness was just beginning. Maybe it's something about not having to have your mom sign a participation slip. Or more likely it's the list of options offered by KCDC. From tours of abandoned buildings and to street art education, what finally got me in a car with strangers was a studio visit with local artist BK Adams.
Of course these weren't any strangers. KCDC'S untraditional learning concept attracts a certain type: curious individuals who are enthusiastic to learn something new and contribute to the conversation. And speaking of conversation, after three minutes in the car, these were no longer strangers. KCDC's rep Lucy Barnett led the trip. Dressed in all black and prepared with her cup of coffee at 11 a.m., by the time we arrived at the large warehouse where BK Adams creates, I felt like I was hanging out with a group of old friends.
"BK!", Lucy shouted, as soon as we stepped into the studio. He came into view, sauntering down the steps, and smiled at his guests. We follow him onto the first floor of his studio and the tour begins.
Famed for his distinctive creative methods and eye-catching specs, Adams is bright in front of his audience and splattered with paint. His face is friendly though mostly hidden by his robust beard. We asked the obvious questions: "What inspires you?" and "Where do you find your materials?"
He answers patiently, inviting us into his far-reaching imagination and sharing firsthand stories of growing up in the District. Dumpster diving. An ongoing obsession with learning how to fly. Blue bicycles. Hidden numbers and names etched in canvas like a diary. He addresses the underlying commentary and symbolism in each piece.
Every response Adams' provides is personal, pointing to self-discovery, and the theme of pursuing active curiosity no matter what stage of life constantly re-occurs. His most recent exhibition, "Exercise Your Mynd—BK Adams I Am Art" at the Smithsonian's Anacostia Community Museum, shared his life philosophy on creativity: it must be approachable and encompass one's community. We listen intently and browse through an array of works ranging from canvas paintings, mixed media compositions and installations.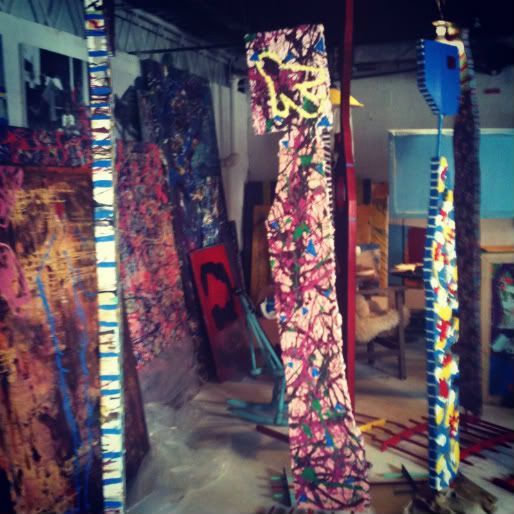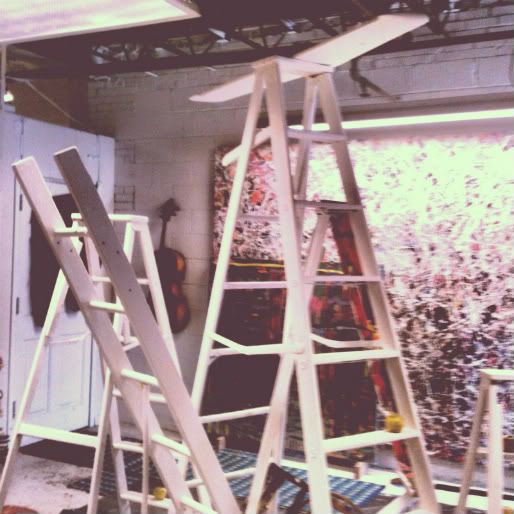 More questions arise from newcomers joining the tour slightly late. When the most poignant inquiry, "What is the meaning behind your signature adage, 'I AM ART'?" comes up, Adams explains his dedication to public art and the importance of encouraging others to think and be creative. It's his version of "I can do it and so can you!" The perfect conclusion to a fantastic day.
To learn more about Knowledge Commons and register for classes, visit their website here.
Glory works as the community manager at ScoutmobDC. (She writes all of @ScoutmobDC's tweets, keeps up our Facebook page and holds down our Instagram.) You can follow her personal Twitter here.